レシピ
You can also use it like this! 4th "TOKYO VEGAN "Takikomi Gohan" GYOZA"
2022/04/15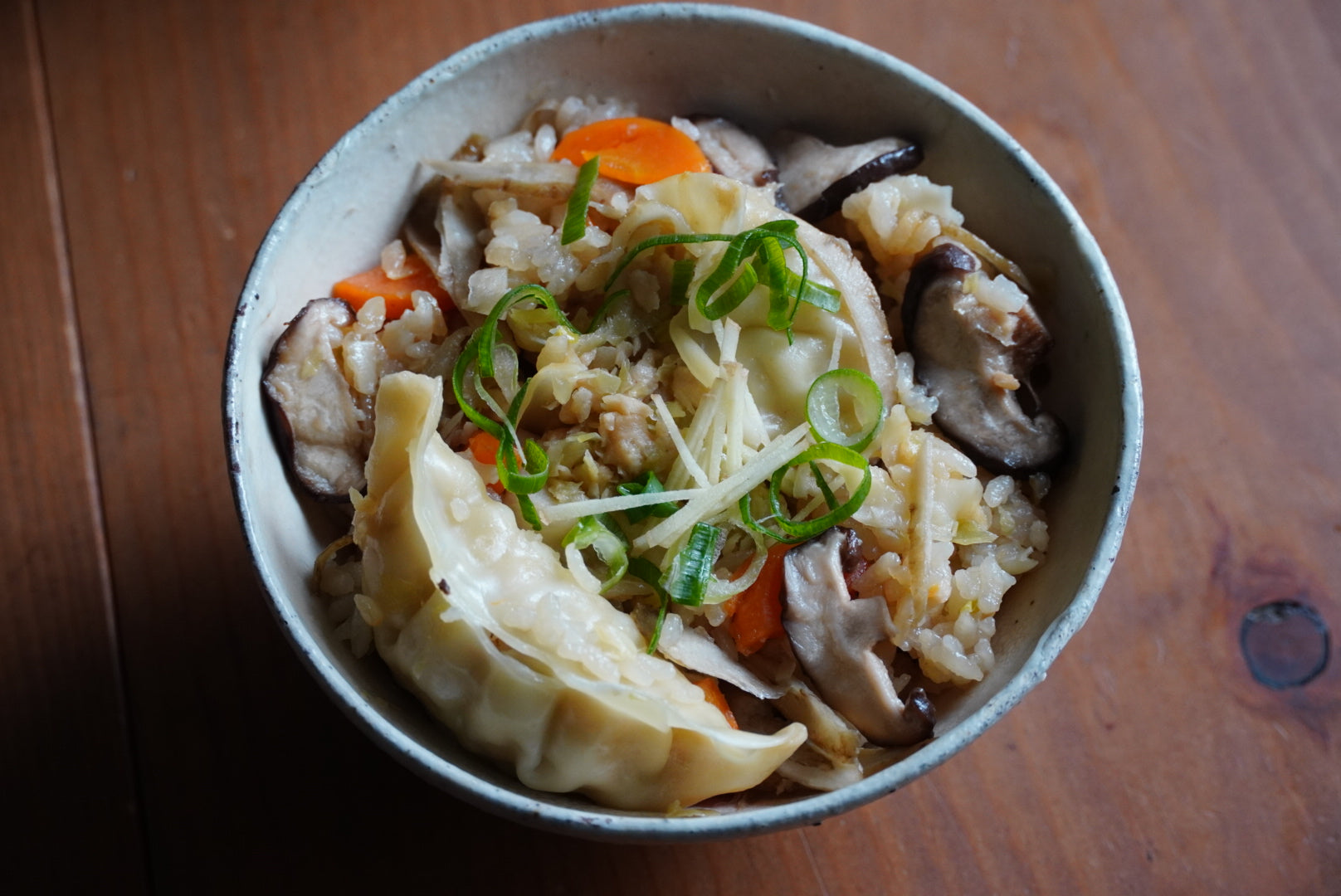 If you notice someiyoshino, it's all green and sprouts.
We will introduce recipes for mixed rice that can be made with just one rice cooker and you can enjoy various flavors in one bowl.


《TOKYO VEGAN "Takikomi Gohan" GYOZA》

[Ingredients] *For 4-5 people
・300cc kombu shiitake mushroom broth (or water if available)
・12 Tokyo vegan dumplings
・Shiitake mushrooms (shimeji mushrooms and maitake mushrooms are also OK) 50g
・ Rapeseed oil (no fragrance like salad oil) 1 tsp
・Ginger Appropriate amount
・Green onion and Wakegi appropriate amount


1. Rinse the rice, soak it in water (not listed), let it sit for about 30 minutes, and drain it in a colander.

2. Slice the burdock into small pieces and soak in vinegar water for about 10 minutes to remove the scum. Cut the carrots into small pieces and slice the shiitake mushrooms thinly.

3. Put the drained rice, kombu shiitake mushroom soup stock (or water) in a rice cooker, and add the ingredients from 2 and the ● seasonings.
4. Arrange the frozen Tokyo vegan gyoza on top of the ingredients in the rice cooker, and sprinkle some rapeseed oil over the gyoza. Cook in normal cooking mode.


5. After cooking, mix the gyoza so that it breaks up and serve in a bowl. Cut the ginger into thin strips (needle ginger) and top with green onions.


[What you taught me]
vegan food creator
iina (nice)

vegetarian cook. In 2008, he moved to Brownsfield in Isumi City, Chiba Prefecture. Became the chef of "Rice Terrace Cafe" while experiencing organic farming and making preserved food. Moved to Tokyo in 2010 and started working as a vegetarian chef. From 2010 to 2012, he opened a veggie cafe "vegegeek" once a week. Currently presides over the cooking class "vivid cookeryvegetarians". Fresh, colorful, delicious and creative vegan food that everyone can enjoy every day.
iina (@iina_veganfoodcreator) • Instagram photos and videos


It's a simple one-pot recipe.
Ginger goes very well with the gyoza, so the needle ginger topping is a must. Additive-free red pickled ginger is also OK.
The umami of the vegan gyoza ingredients mixes with the rice for a richer flavor.
The oil is added to prevent the rice and gyoza skins from sticking together, and to add flavor.
If you want to enjoy Japanese style, you can use non-scented oil or sesame oil to create a Chinese style and enjoy a different taste.
****************


Tokyo Vegan Gyoza's bean paste is used as a filling for cooked rice, so it can be made with surprisingly few ingredients. No cooking utensils or frying pans are required. Please try it!