レシピ
《TOKYO VEGAN "Sukiyaki Donburi" GYOZA》
2022/09/15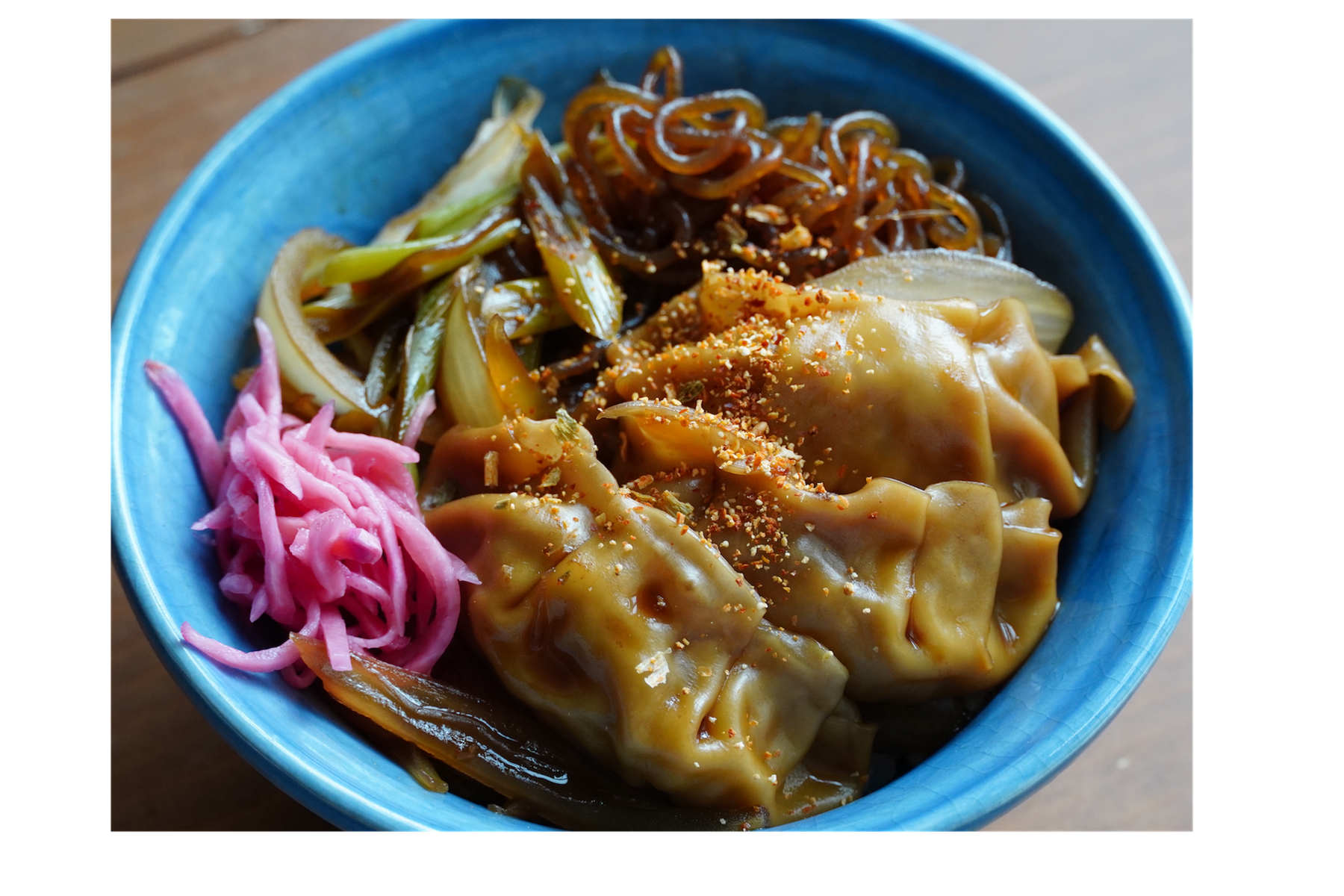 Just when it feels like summer is coming to an end, it turns out that there are still some days where the lingering heat is still severe, such as midsummer days and intense heat.

Today, I would like to introduce the recipe for TOKYO VEGAN "Sukiyaki Donburi" GYOZA. You may have had many light meals during the summer, but it's time to start missing the rich flavors. How about enjoying the autumn mood as soon as possible?

《TOKYO VEGAN
"Sukiyaki Donburi"
GYOZA》 For 2
people
・6-8 Tokyo vegan gyoza dumplings
A Kombu shiitake mushroom soup stock 100cc
1 tablespoon of brown sugar (or cane sugar)


・Red ginger, chili pepper as needed
1. Cut the onion into wedges, and cut the green onion diagonally. Boil the thread konnyaku quickly and cut into easy-to-eat lengths.
2. Heat sesame oil in a frying pan and sauté the chopped onions over low heat. When the edges of the onion become translucent, add all the ingredients in A and turn the heat to medium.
3. When it boils, add green onions, thread konnyaku, frozen vegan dumplings, reduce heat to low, cover and simmer. When the green onions are cooked, open the lid and simmer until the juice is to your liking.
4. Set aside the rice and pour it over it. If you like, sprinkle shichimi chili pepper or red pickled ginger.
**iina's comment**
Sukiyaki rice bowl with sweet and salty soup soaked in rice with vegan gyoza. Vegan dumplings tend to fall apart when simmered, so the trick is not to touch them too much until the ingredients are added and boiled down. You can also add enoki mushrooms and Chinese cabbage!
****************
[What you taught me]
vegan food creator
iina (nice)
vegetarian cook.
In 2008, he moved to Brownsfield in Isumi City, Chiba Prefecture.
Became the chef of
"Rice Terrace Cafe" while experiencing organic farming and making preserved food
. Moved to Tokyo in 2010 and
started working as a vegetarian chef.
From 2010 to 2012,
he opened a veggie cafe "vegegeek" once a week. Currently presides over the cooking class "vivid cookeryvegetarians".
Fresh, colorful,
delicious and creative vegan food that everyone can enjoy every day
.
iina (@iina_veganfoodcreator) • Instagram photos and videos
The onions and green onions will help you get rid of summer fatigue, and the shirataki noodles will help you get your intestines going.
Please try it!