レシピ
You can also use it like this! 3rd installment 《TOKYO VEGAN "Momo" GYOZA》
2022/03/18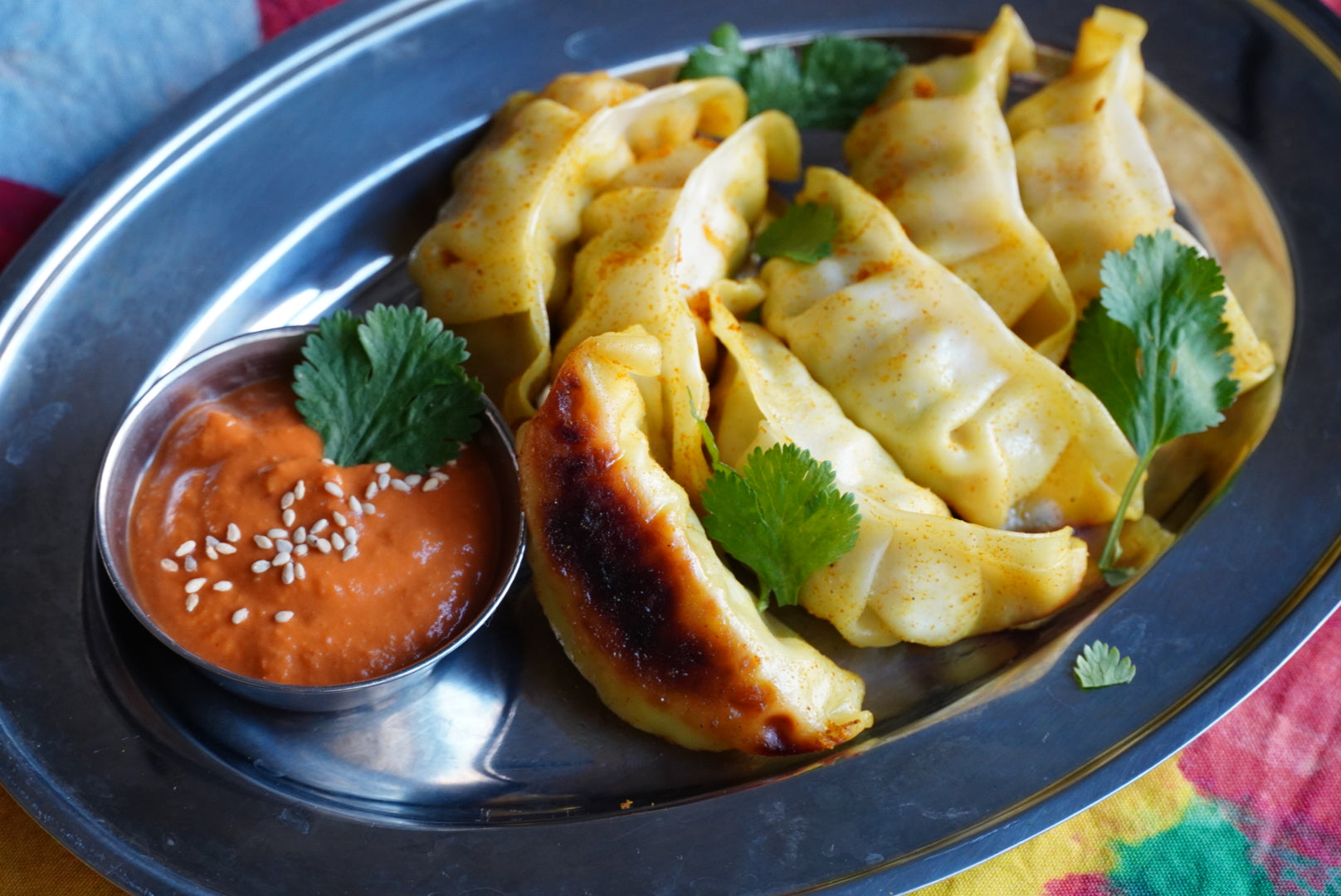 It's been three cold days and four warm days, when you think it's spring, and then it's back to the middle of winter. I'm looking forward to it♪
By the way, do you know that it's not a peach, but a dish called "momo"?
《TOKYO VEGAN "Momo" GYOZA》 3-4 servings
[Ingredients] * For 3-4 people
●Spice gyoza・Tokyo vegan gyoza 15-20 pieces
・Vegetable oil (unscented) 1 tbsp ・Curry powder 1 tsp
・80ml water
Momo sauce Easy to make amount
・50g onion
・Canned diced tomato 100g
・1 large clove of garlic ・Ginger, about the same size as garlic
・1 tablespoon white sesame paste *If not available, 1 and 1/2 tablespoons ground sesame seeds
・50cc of water
* 2 teaspoons soy sauce
* 1/8 tsp salt
* 1/2 tablespoon lemon juice
*1/2 teaspoon of cumin powder *Can be omitted if not available
・ coriander appropriate amount
[How to make]
1. Make peach sauce. Heat oil in a frying pan or small pot and fry the minced garlic and ginger over low heat until fragrant, about 1-2 minutes. Remove the seeds from the hawk's claws (it will be very spicy if you don't remove them), add the thinly sliced pieces, and fry for another minute.
2. Add coarsely chopped onions and fry for a few minutes until they become tender. Add water and simmer for another 2 minutes, then turn off the heat and let it cool.
3. Put 2 and ● ingredients in a blender and mix until smooth.
4. Bake spice dumplings. Pour the oil into a hot frying pan and arrange the dumplings. Bake for a few minutes over medium-low heat, and when the bottom of the gyoza is browned, sprinkle curry powder evenly over the gyoza, immediately add water, cover with a lid, and heat over medium heat for 3 minutes. Open the lid and if there is water, increase the heat and skip.
5. Add peach sauce to the spice dumplings and scatter coriander.
[What you taught me]
vegan food creator
iina (nice)

vegetarian cook. In 2008, he moved to Brownsfield in Isumi City, Chiba Prefecture. Became the chef of "Rice Terrace Cafe" while experiencing organic farming and making preserved food. Moved to Tokyo in 2010 and started working as a vegetarian chef. From 2010 to 2012, he opened a veggie cafe "vegegeek" once a week. Currently presides over the cooking class "vivid cookeryvegetarians". Fresh, colorful, delicious and creative vegan food that everyone can enjoy every day.
iina (@iina_veganfoodcreator) • Instagram photos and videos

**iina's comment**
This recipe is inspired by Nepalese gyoza dumplings, momos. The actual peaches are seasoned with spices inside, but when steamed, I used curry powder to give the skin a spice flavor. Please enjoy vegan gyoza with a foreign scent.
As for how to make the sauce, if you don't have a blender, grate the garlic and ginger, mince the onion as finely as possible, and crush the canned tomatoes with a wooden spatula while frying.
****************
Momo is a dish that originated in Tibet and was brought to Nepal. Even if going out to eat Nepalese food is a bit of a hurdle, with this recipe you can enjoy ethnic exotic flavors at home. Please try it!