レシピ
《TOKYO VEGAN "Mexican Salad" GYOZA》
2022/08/31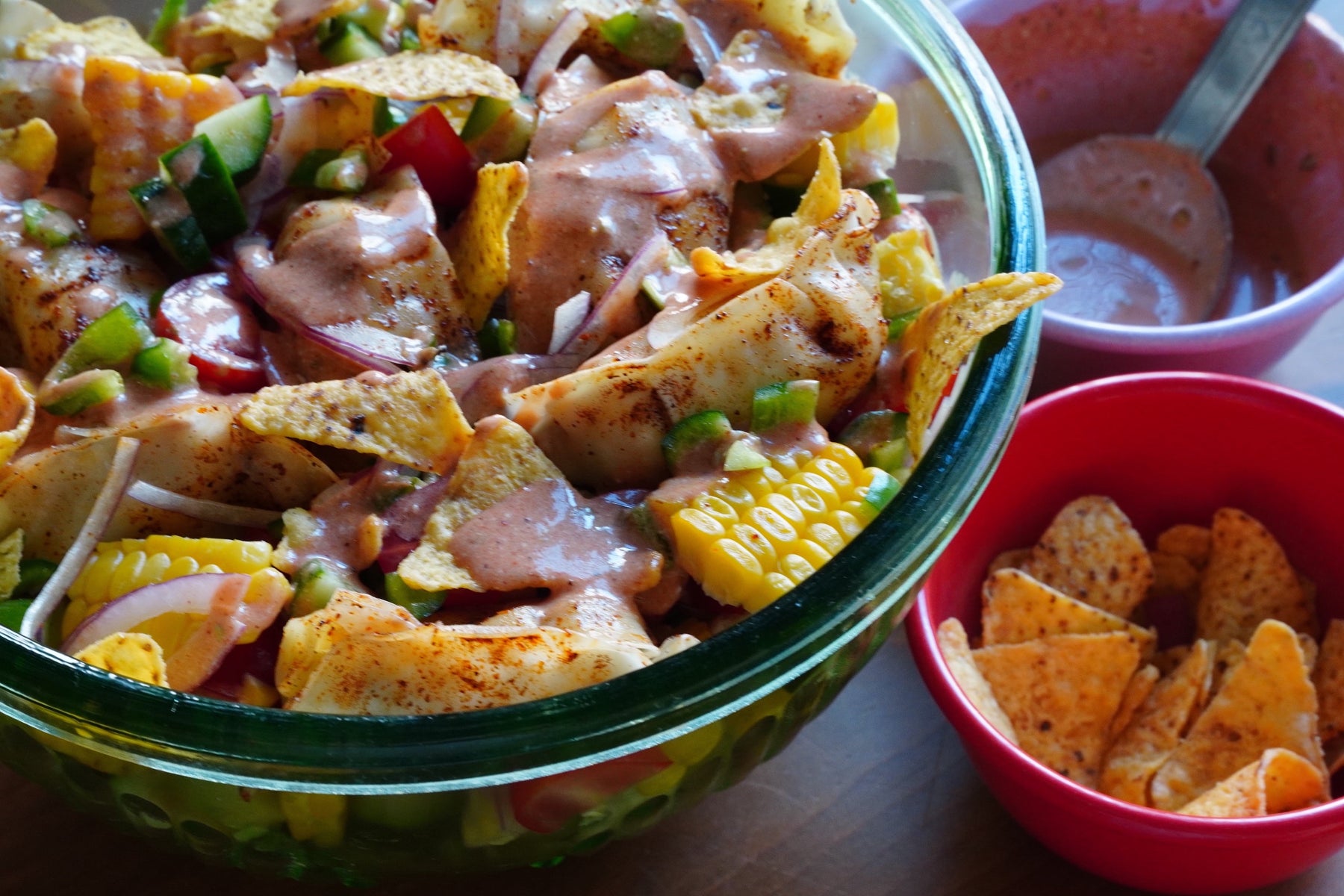 Finally the last day of August. For a while, it became easier to spend time and it felt like autumn, but it seems that the hot and humid weather will continue from now on, so it seems necessary to keep summer clothes.

Well, today, I will introduce the recipe for TOKYO VEGAN "Mexican Salad" GYOZA. It's the end of summer and you're feeling a little tired.


《TOKYO VEGAN
"Mexican Salad"
GYOZA》 For
4 people
・12 Tokyo vegan dumplings
・Chili powder 1/8 teaspoon
・1/2 teaspoon cumin powder
・100g tomato (can be mini tomato)
・1/2 teaspoon garlic powder
・Chili powder 1/8 teaspoon
・1 tablespoon lemon juice
・Salt and pepper as you like


1. Shred the lettuce into 5 mm wide strips, cut the avocado, tomato and cucumber into cubes, remove the corn from the core, thinly slice the purple onion, and cut the green pepper into small cubes.
2. Steam or microwave the Tokyo Vegan Gyoza. Once cooled, drizzle with olive oil and sprinkle with chili powder and cumin powder to mix.
3. Mix dressing ingredients well in a small bowl. Sprinkle the vegetables and dumplings over the salad bowl. Sprinkle tortilla chips.


**iina's comment**
Spicy Mexican salad. Let's have it with everyone's favorite Cobb salad-style dressing.
A meal salad that makes you feel like you're eating tacos.
Chili powder can be substituted with Tabasco.
****************
[What you taught me]
vegan food creator
iina (nice)
vegetarian cook.
In 2008, he moved to Brownsfield in Isumi City, Chiba Prefecture.
Became the chef of
"Rice Terrace Cafe" while experiencing organic farming and making preserved food
. Moved to Tokyo in 2010 and
started working as a vegetarian chef.
From 2010 to 2012,
he opened a veggie cafe "vegegeek" once a week. Currently presides over the cooking class "vivid cookeryvegetarians".
Fresh, colorful,
delicious and creative vegan food that everyone can enjoy every day
.
iina (@iina_veganfoodcreator) • Instagram photos and videos
Chili powder, cumin and oregano make this salad a little different from the usual. Invited by the scent of spices and herbs, you can enjoy eating it.
Please try it!