レシピ
You can also use it like this! 《TOKYO VEGAN "Mapo Tofu" GYOZA》
2022/02/17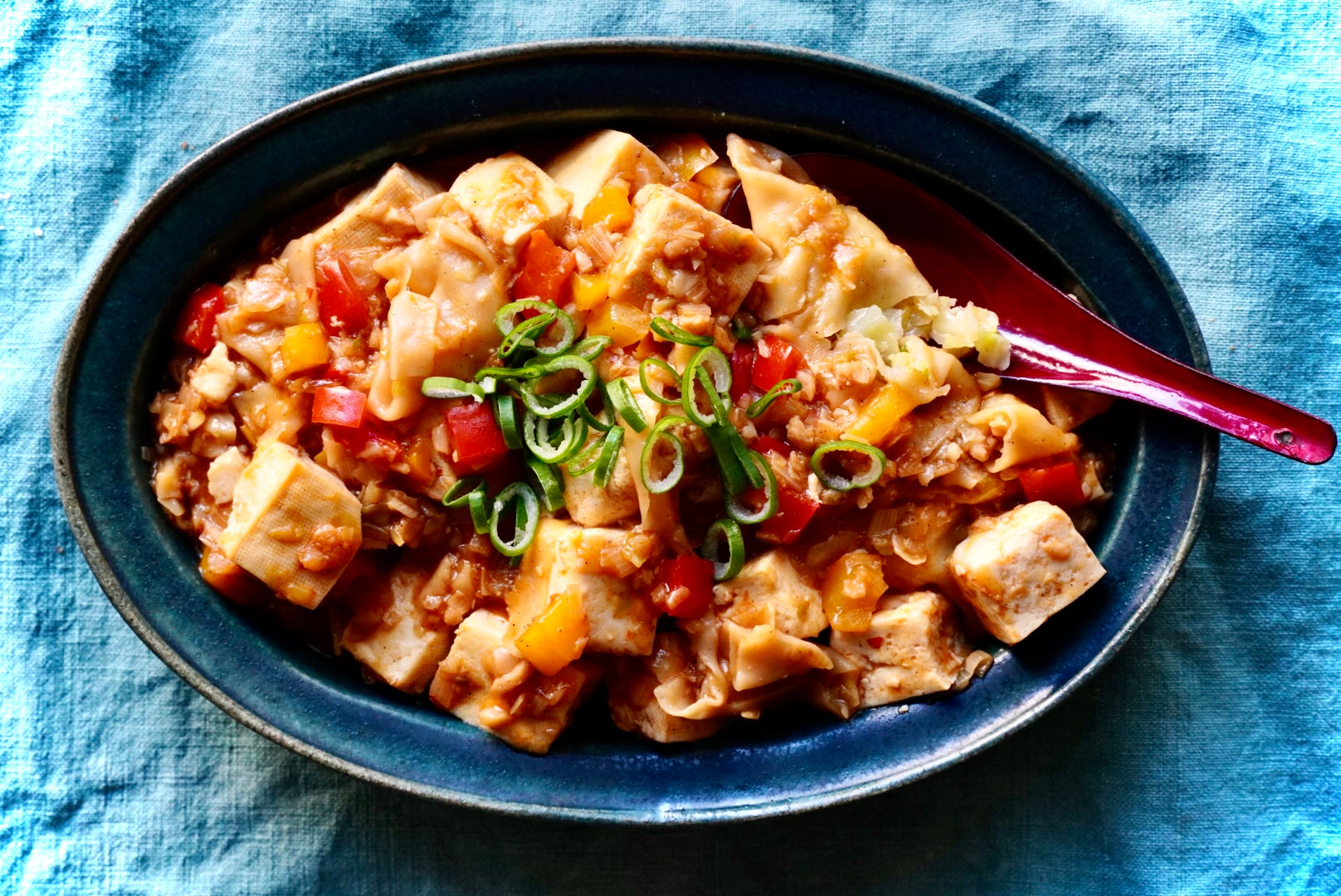 Today, we're introducing a recipe for mapo tofu made with Tokyo vegan gyoza, a collaboration of two classic Chinese dishes.
《TOKYO VEGAN "Mapo Tofu" GYOZA 》
[Ingredients] * For 3-4 people
・Firm tofu 1 block (350g)
・10 Tokyo vegan dumplings ・1 tablespoon of sesame oil
・1 large clove of garlic ・1/2 green onion (about 50g)
・Paprika red/yellow 80g in total *Eggplant and shimeji mushrooms are OK
・1 teaspoon bean paste
・A little less than 1/2 teaspoon Sichuan pepper powder 350cc of water
︎ Miso 1 teaspoon
● ︎Sake 1 tbsp
︎Mirin 1 tbsp
● ︎1 and 1/2 tbsp soy sauce
・Chili oil Appropriate amount
[How to make]
1. Heat sesame oil in a frying pan and fry the finely chopped green onion and garlic until fragrant.

2. Add doubanjiang and Sichuan pepper powder and stir-fry lightly, then add frozen Tokyo Vegan Gyoza and stir-fry.

3. When the gyoza skin becomes soft, add the ● ingredients, and break the gyoza in half with a wooden spatula while boiling.

4. When all the gyoza are cut in half, add the diced tofu and when it boils, reduce the heat to low and simmer for a few minutes with a lid.

5. Open the lid, skip if there is too much moisture, add if not enough to adjust the concentration and taste, and finally sprinkle chili oil once to finish.
[What you taught me]
vegan food creator
iina (nice)

vegetarian cook. In 2008, he moved to Brownsfield in Isumi City, Chiba Prefecture. Became the chef of "Rice Terrace Cafe" while experiencing organic farming and making preserved food. Moved to Tokyo in 2010 and started working as a vegetarian chef. From 2010 to 2012, he opened a veggie cafe "vegegeek" once a week. Currently presides over the cooking class "vivid cookeryvegetarians". Fresh, colorful, delicious and creative vegan food that everyone can enjoy every day.
iina (@iina_veganfoodcreator) • Instagram photos and videos


**iina's comment**
A simple recipe using vegan gyoza gyoza minced meat and ginger as ingredients for mapo tofu.
When the gyoza skin is boiled and melted, it becomes thicker, so there is no need to thicken it with water-soluble potato starch!
Sichuan pepper is called Hua Jiao, which gives it a punch and gives it a full-fledged taste, but it's okay if you don't have it.
****************

Breaking the gyoza on purpose and using minced meat instead of minced meat to melt the skin to make it thicker is a novel idea, but it's an idea unique to raw gyoza 2.0. Enjoy.
Please try it!