レシピ
You can also use it like this! 2nd installment 《TOKYO VEGAN "Lasagna" GYOZA》
2022/03/08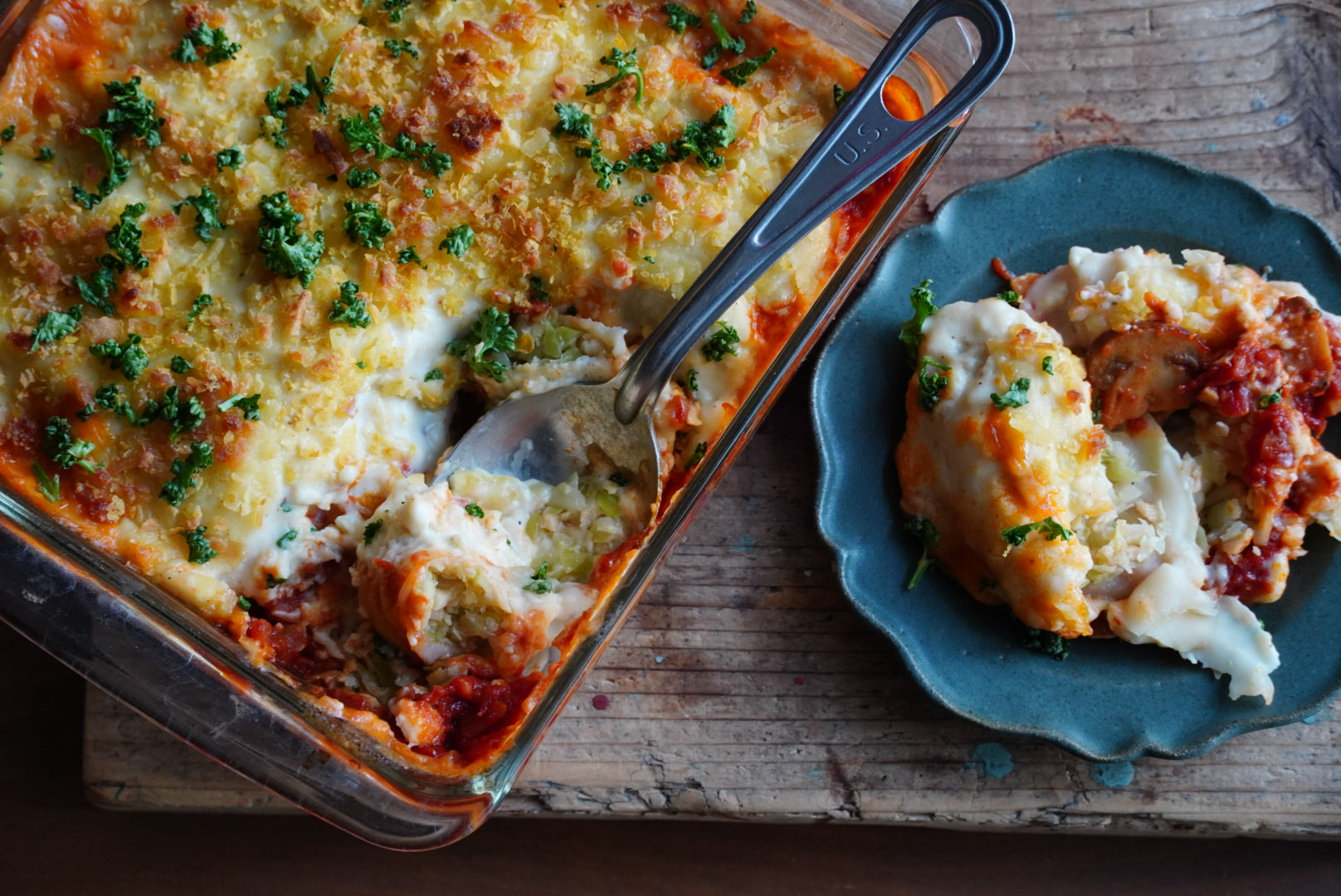 How about a warm menu like this on a cold day ? Introducing the lasagna recipe made with Tokyo vegan dumplings ♪


《TOKYO VEGAN "Lasagna" GYOZA 》
[Ingredients] * For 3-4 people Tomato sauce, canned diced tomatoes 300g
・60g onion
・1 clove of garlic ・1/2 tablespoon of olive oil
・Brown mushrooms (or shimeji mushrooms) 50g
・1/2 tsp salt
・1/2 teaspoon soy sauce
・A pinch of pepper ・1/8 tsp dried oregano or dried basil

●White sauce
・1 and 1/2 tbsp olive oil
・3 tbsp flour
・Unadjusted soy milk (or vegetable milk) 2 cups (400cc)
・1/2 tsp salt
・Nutmeg powder 1/8 teaspoon
・12 Tokyo vegan dumplings
・Vegan shredded cheese 60g *1 tablespoon of nutritional yeast is also OK
・Appropriate amount of parsley

[How to make]

1. Make tomato sauce. Finely chop the onion and finely chop the garlic and sauté in olive oil over low heat. When the edges of the onions become translucent, add the mushrooms sliced into 3-4 mm pieces and fry.


2. When the mushrooms become tender, add canned diced tomatoes, salt, soy sauce, pepper, and oregano, cover and simmer for a few minutes. Open the lid and simmer to your desired thickness. (If you want to make it thinner, add water, and if you like it thicker, let it boil down.) If possible, spread it on an ovenable heat-resistant plate.


3. Dip the frozen Tokyo vegan dumplings in olive oil and place them on top of the tomato sauce.
4. Make the white sauce. Bring the measured soy milk to room temperature (or warm it slightly). Fry the flour in a frying pan with olive oil over low heat. When the edges become fuzzy, fry over low heat for about 30 seconds and turn off the heat. Add the soy milk little by little while stirring. After adding all the ingredients, add salt and nutmeg, turn the heat on low, and heat until it thickens while stirring well.


5. Pour the white sauce over the gyoza. Sprinkle vegan shredded cheese (or nutritional yeast) on top and bake in the oven at 190 degrees for about 25 minutes.
Sprinkle with parsley before serving.


[What you taught me]
vegan food creator
iina (nice)

vegetarian cook. In 2008, he moved to Brownsfield in Isumi City, Chiba Prefecture. Became the chef of "Rice Terrace Cafe" while experiencing organic farming and making preserved food. Moved to Tokyo in 2010 and started working as a vegetarian chef. From 2010 to 2012, he opened a veggie cafe "vegegeek" once a week. Currently presides over the cooking class "vivid cookeryvegetarians". Fresh, colorful, delicious and creative vegan food that everyone can enjoy every day.
iina (@iina_veganfoodcreator) • Instagram photos and videos


**iina's comment**
When you eat the gyoza skin and the veggie meat inside while breaking it, what a surprise! It feels like eating lasagna flat pasta and meat sauce. Note that the white sauce tends to clump if there is a temperature difference between the pan and the soy milk.
****************


Italian lasagna with dumplings is a surprising idea, but when you think about it, both are originally made of flour and minced meat. A recipe that kills two birds with one stone by using dumpling skins as pasta and fillings as minced meat ☆ For days when you want to change your mood a little. Please try it!