レシピ
《TOKYO VEGAN "Summer vegetable keema curry" GYOZA》
2022/07/14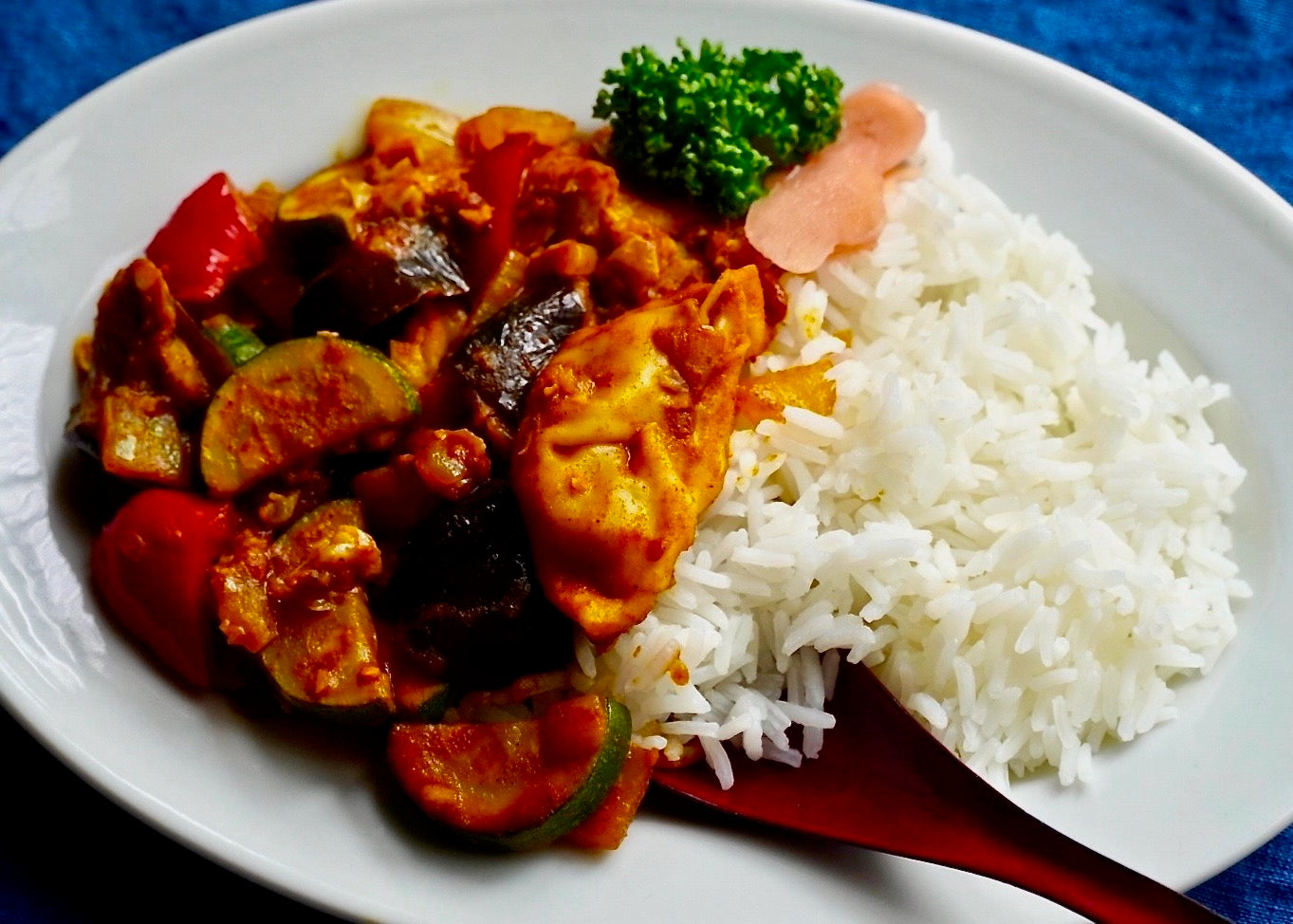 It's been raining intermittently, and it's been a long day without sunshine this week.

Today, T.
Introducing the recipe for OKYO VEGAN "Summer vegetable keema curry" GYOZA. Summer vegetables such as zucchini are plentiful, and together with Tokyo vegan gyoza, it is nutritious and filling.


《TOKYO VEGAN "Summer vegetable keema curry" GYOZA》 Serves 2-3 people
・10 Tokyo vegan dumplings
・50g can of diced tomatoes (2 tablespoons of ketchup are also acceptable)


・Vegetable oil (olive oil or rapeseed oil) 1 tbsp
・Curry powder 1 tablespoon
・1 teaspoon soy sauce


・Appropriate amount of cooked rice


1. Mince the garlic, cut the onion into large cubes, cut the zucchini into 5mm-thick half-moons, and cut the eggplant and red paprika into chunks.

2. Add oil and garlic to a frying pan and heat over low heat until fragrant. Add the onions and sauté gently until softened.

3. Add zucchini, eggplant and red paprika and stir-fry. When the vegetables are half cooked, add curry powder, salt and canned tomatoes. Once the curry paste has spread all over the vegetables, add frozen vegan gyoza dumplings and water and turn the heat to medium.

4. When the dumplings are cooked, reduce the heat to low, add soy sauce, break the dumplings with a spatula, and continue boiling until the liquid is gone.

5. When it looks like dry curry, put the rice on a plate and serve the curry.


Curry with summer vegetables and vegan dumplings. You don't have to break the gyoza, but if you break it, the ingredients inside will come out and the taste will blend in, making it a more keema curry.
****************


[What you taught me]
vegan food creator
iina (nice)

vegetarian cook. In 2008, he moved to Brownsfield in Isumi City, Chiba Prefecture. Became the chef of "Rice Terrace Cafe" while experiencing organic farming and making preserved food. Moved to Tokyo in 2010 and started working as a vegetarian chef. From 2010 to 2012, he opened a veggie cafe "vegegeek" once a week. Currently presides over the cooking class "vivid cookeryvegetarians". Fresh, colorful, delicious and creative vegan food that everyone can enjoy every day.
iina (@iina_veganfoodcreator) • Instagram photos and videos
There is an image of sweating and eating in the hot summer, but the spices contained in curry have stomachic effects, increase appetite, promote digestion, and prevent summer fatigue, so it is perfect for this unstable season. . Please try it!