レシピ
《TOKYO VEGAN "Italian Salad" GYOZA》
2022/06/07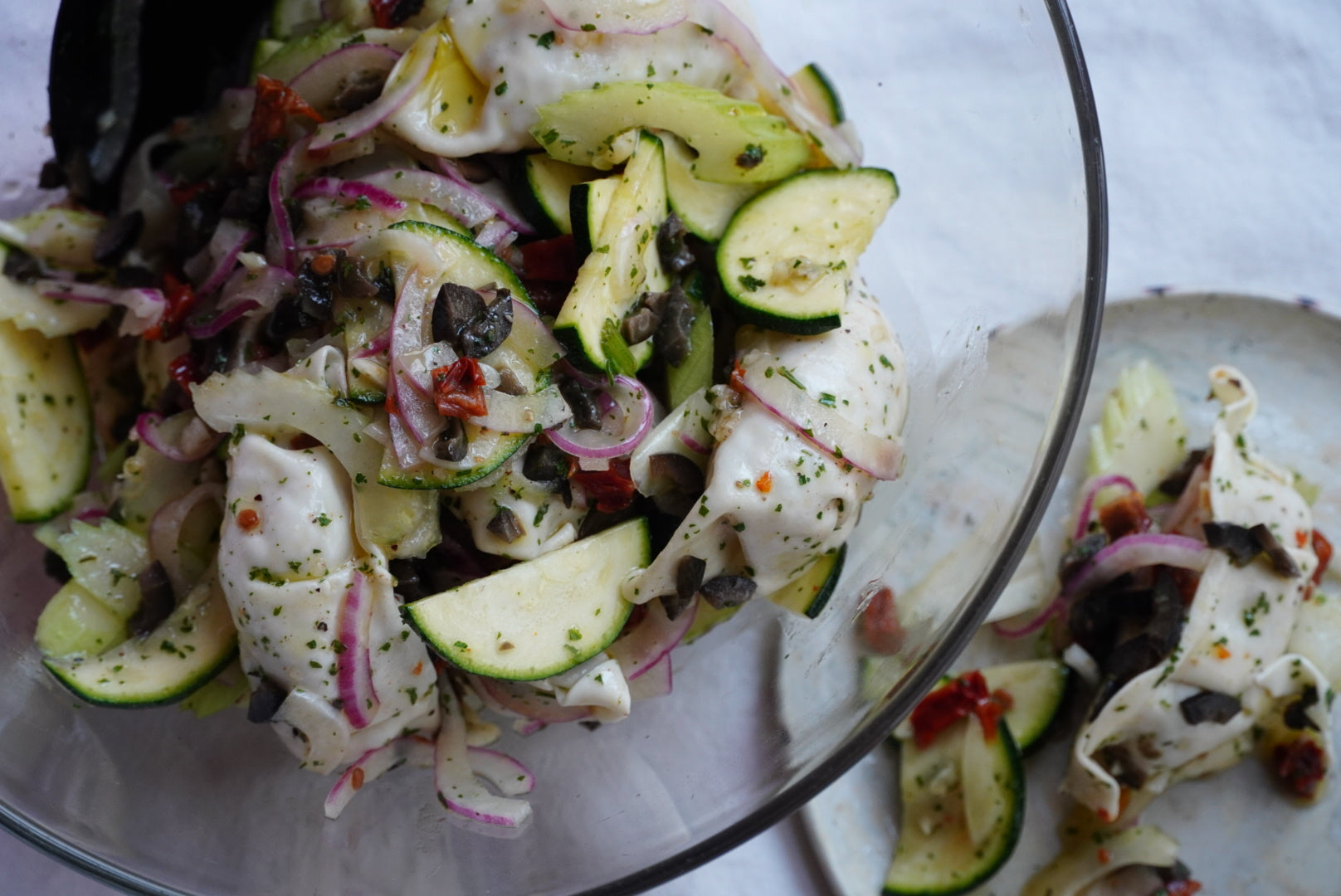 Kanto has finally entered the rainy season!

Today, we will introduce the recipe for TOKYO VEGAN "Italian Salad" GYOZA. In this season when it tends to be hot and humid, you can enjoy it refreshingly, so it's perfect for when you don't have an appetite or when you're just a little unsatisfied.


[Ingredients] *For 3 to 4 people
・12 Tokyo vegan dumplings
A. 2 tablespoons of olive oil
1 and 1/2 tbsp white wine vinegar (or any vinegar of your choice)
1/2 teaspoon light soy sauce
1/2 teaspoon parsley (dried)
1. Soften the dried tomatoes so that they can be cut even if they are soaked in water. (about 20 minutes)
2. Vegan dumplings are lightly steamed or microwaved and cooled.
3. Coarsely mince the black olives and reconstituted dried tomatoes, and finely mince the garlic. Mix A ingredients in a bowl.
4. Thinly slice the celery, zucchini, and purple onion, and add them to the bowl from step 3 with the vegan dumplings.


[What you taught me]
vegan food creator
iina (nice)

vegetarian cook. In 2008, he moved to Brownsfield in Isumi City, Chiba Prefecture. Became the chef of "Rice Terrace Cafe" while experiencing organic farming and making preserved food. Moved to Tokyo in 2010 and started working as a vegetarian chef. From 2010 to 2012, he opened a veggie cafe "vegegeek" once a week. Currently presides over the cooking class "vivid cookeryvegetarians". Fresh, colorful, delicious and creative vegan food that everyone can enjoy every day.
iina (@iina_veganfoodcreator) • Instagram photos and videos


Refreshing Italian salad-style vegan dumplings. As a side menu of the dining table.
If you don't have sun-dried tomatoes, you can also add diced fresh tomatoes.
****************


After rehydrating the dried tomatoes and steaming the dumplings, all you have to do is mix them with the cut and sliced vegetables in this easy recipe.

Please try it!