レシピ
《TOKYO VEGAN "cold soup" GYOZA》
2022/07/22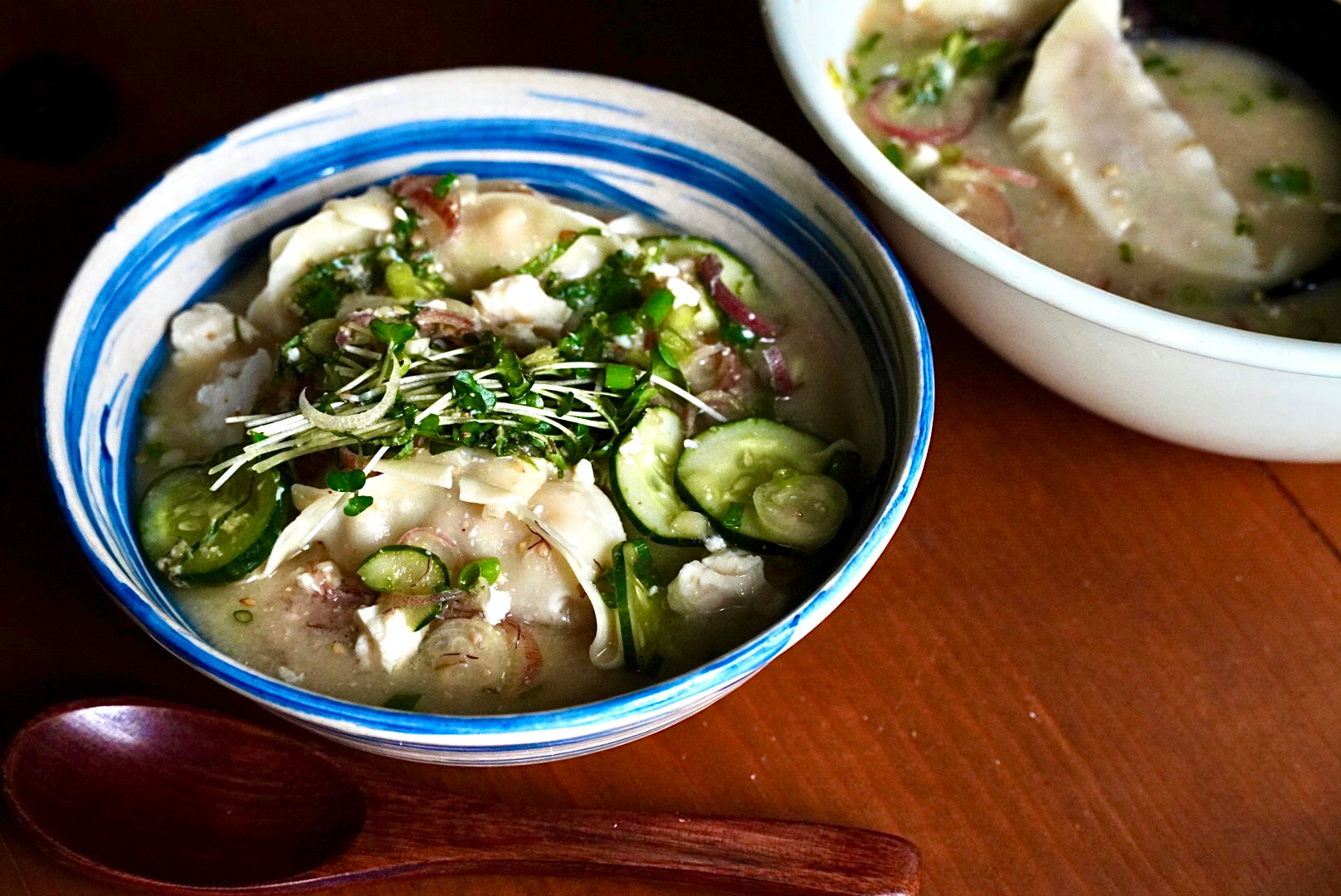 Today, I would like to introduce a recipe for TOKYO VEGAN "Hiyajiru" GYOZA, which is a local dish that you will want to eat in the summer.

《TOKYO VEGAN "cold juice" GYOZA》 Serves 4 [Ingredients]
・8 pieces of Tokyo vegan gyoza ・1.5 pieces of cucumber ・150g of tofu
・4 tablespoons of barley miso (80g)
・White ground sesame 2 tsp
・1 teaspoon light soy sauce
・Konbu shiitake mushroom broth 450cc
・2 stalks of Japanese ginger ・4 sheets of green perilla ・2 stalks of wakame

[How to make]
1. Microwave or steam the vegan gyoza, then heat and cool. Slice the cucumbers into thin rounds and rub them lightly with 1/4 teaspoon of salt. Cut myoga into thin slices and soak in water. Drain the tofu in a colander. Cut green perilla into thin strips, and cut green onions into small pieces.

2. Put ground sesame, barley miso, and light soy sauce in a bowl or deep plate, add the kombu shiitake mushroom soup little by little, and dissolve the miso well with a whisk.

3. Add cold vegan gyoza to 2. Cucumber and myoga are well squeezed and added. Break up the tofu with your hands. Chill the juice thoroughly in the refrigerator.

4. Just before eating, add green perilla, wakegi, and kaiware. Serve over rice or somen noodles.


I put vegan dumplings in cold soup that is perfect for hot days. It's refreshing even on a hot day when you don't have an appetite. Serve over cold rice or somen noodles. It is also recommended to add grated ginger and yuzu pepper to change the taste.
If you don't have time to chill it in the refrigerator, you can use less dashi stock and add ice to cool it down. The salt content of the miso you have is different, so try adding more miso or diluting it with dashi while tasting it.
****************


[What you taught me]
vegan food creator
iina (nice)

vegetarian cook. In 2008, he moved to Brownsfield in Isumi City, Chiba Prefecture. Became the chef of "Rice Terrace Cafe" while experiencing organic farming and making preserved food. Moved to Tokyo in 2010 and started working as a vegetarian chef. From 2010 to 2012, he opened a veggie cafe "vegegeek" once a week. Currently presides over the cooking class "vivid cookeryvegetarians". Fresh, colorful, delicious and creative vegan food that everyone can enjoy every day.
iina (@iina_veganfoodcreator) • Instagram photos and videos
If you steam gyoza in the microwave, you can do it without using fire, so it's a great recipe for hot days when you don't want to stand in front of the stove. It's smooth, it's good to make, and it's good to eat. Add your favorite condiments and give it a try!