レシピ
TOKYO VEGAN GYOZA Party <<~ 3 different sauces that go well with grilled dumplings~>>
2022/05/19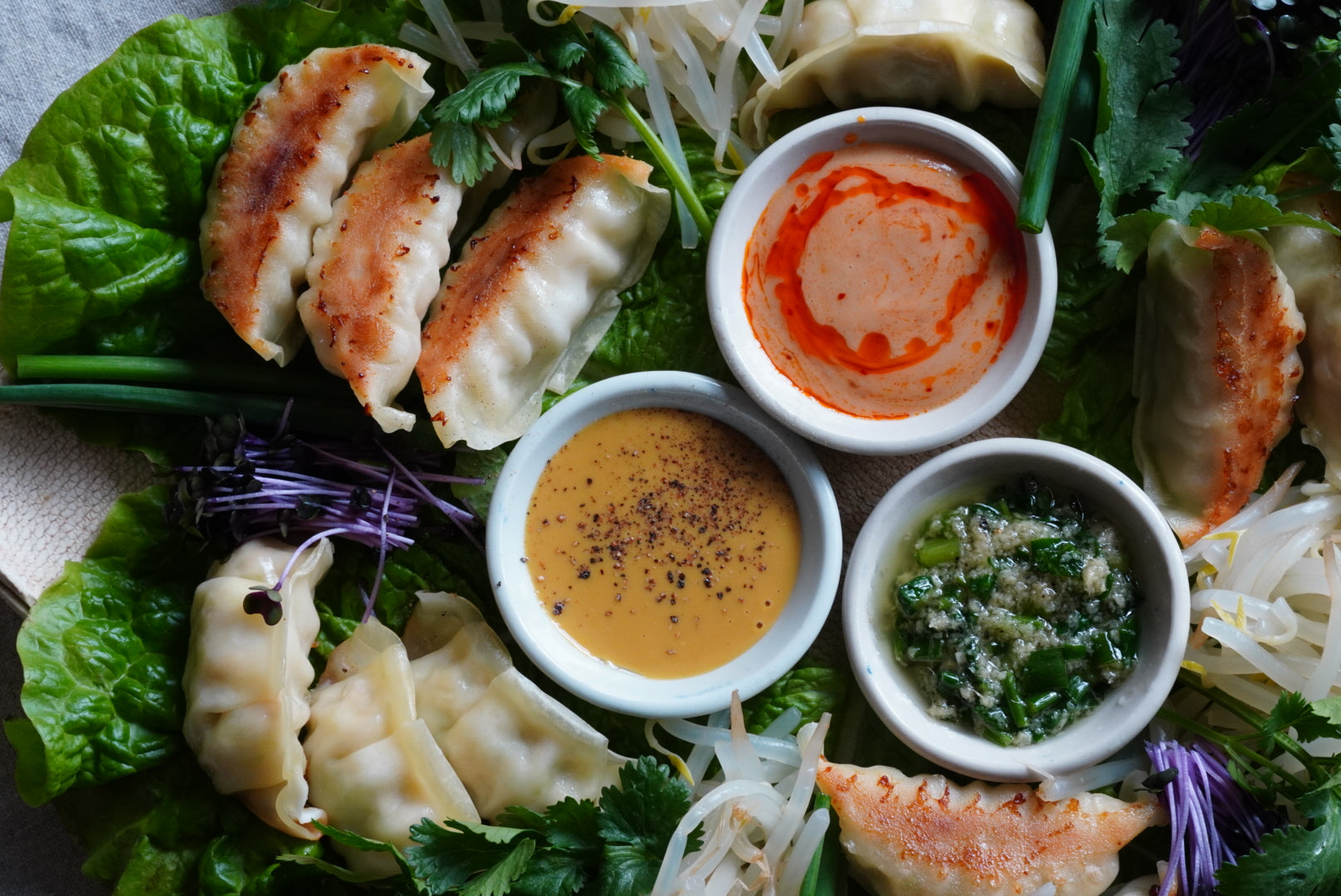 In the first half of this week, rehearsals for the rainy season continued, but as the second half progresses, the weather becomes refreshing and it feels good!

How about a TOKYO VEGAN GYOZA Party☆ with 3 different sauces and plenty of vegetables today? If you change the sauce, you can enjoy the usual Tokyo vegan gyoza with a different taste.

[Ingredients and how to make] *For 3 to 4 people
・Tokyo vegan gyoza 15-20 pieces
・Lettuce, sprouts, bean sprouts, coriander, onions, etc., as desired
《 Peanut Chili Sauce》
・1 tablespoon of additive-free peanut butter
・Unadjusted soy milk 1 and 1/2 tablespoons
・1/2 teaspoon chili oil

1. Place the peanut butter in a small bowl and add the other ingredients little by little while mixing. (Additive-free peanut butter is hard and liquid does not mix well, so add it little by little.)



《 Flavored Ginger Sauce》
・Grated ginger 1 tablespoon
- Rapeseed oil (any unscented vegetable oil) 1 and 1/2 tbsp
1. Cut coriander and scallions into small pieces, put them in a heat-resistant bowl with grated ginger, add salt and pepper and mix.
2. Heat the rapeseed oil in a frying pan, and when it starts to smoke a little, quickly pour it over the ingredients from Step 1 and mix well.



《 Pepper Mustard Sauce》
・Unadjusted soy milk 1 and 1/2 tablespoons
・Appropriate amount of coarsely ground black pepper
1. Mix everything well in a small bowl.
This sauce will keep for about 10 days in the refrigerator, so you can make it ahead of time.
・We use peanut butter that does not contain any sugar or additives.
・Please use raw fresh grated ginger.
・For the mustard, use yellow mustard that is made from Western mustard and is used for hot dogs, not Japanese mustard.
Wrap vegan gyoza in a different sauce and fresh vegetables and enjoy!
****************
[What you taught me]
vegan food creator
iina (nice)
vegetarian cook. In 2008, he moved to Brownsfield in Isumi City, Chiba Prefecture. Became the chef of "Rice Terrace Cafe" while experiencing organic farming and making preserved food. Moved to Tokyo in 2010 and started working as a vegetarian chef. From 2010 to 2012, he opened a veggie cafe "vegegeek" once a week. Currently presides over the cooking class "vivid cookeryvegetarians". Fresh, colorful, delicious and creative vegan food that everyone can enjoy every day.
iina (@iina_veganfoodcreator) • Instagram photos and videos



When it comes to sauces for gyoza, soy sauce, chili oil, vinegar, and pepper are the standard sauces, but the three sauces introduced this time can be used not only with grilled gyoza, but also with boiled gyoza, and vegetables instead of dressing. It's versatile.
Please try it!