レシピ
《TOKYO VEGAN "Chili Ankake" GYOZA》
2022/08/02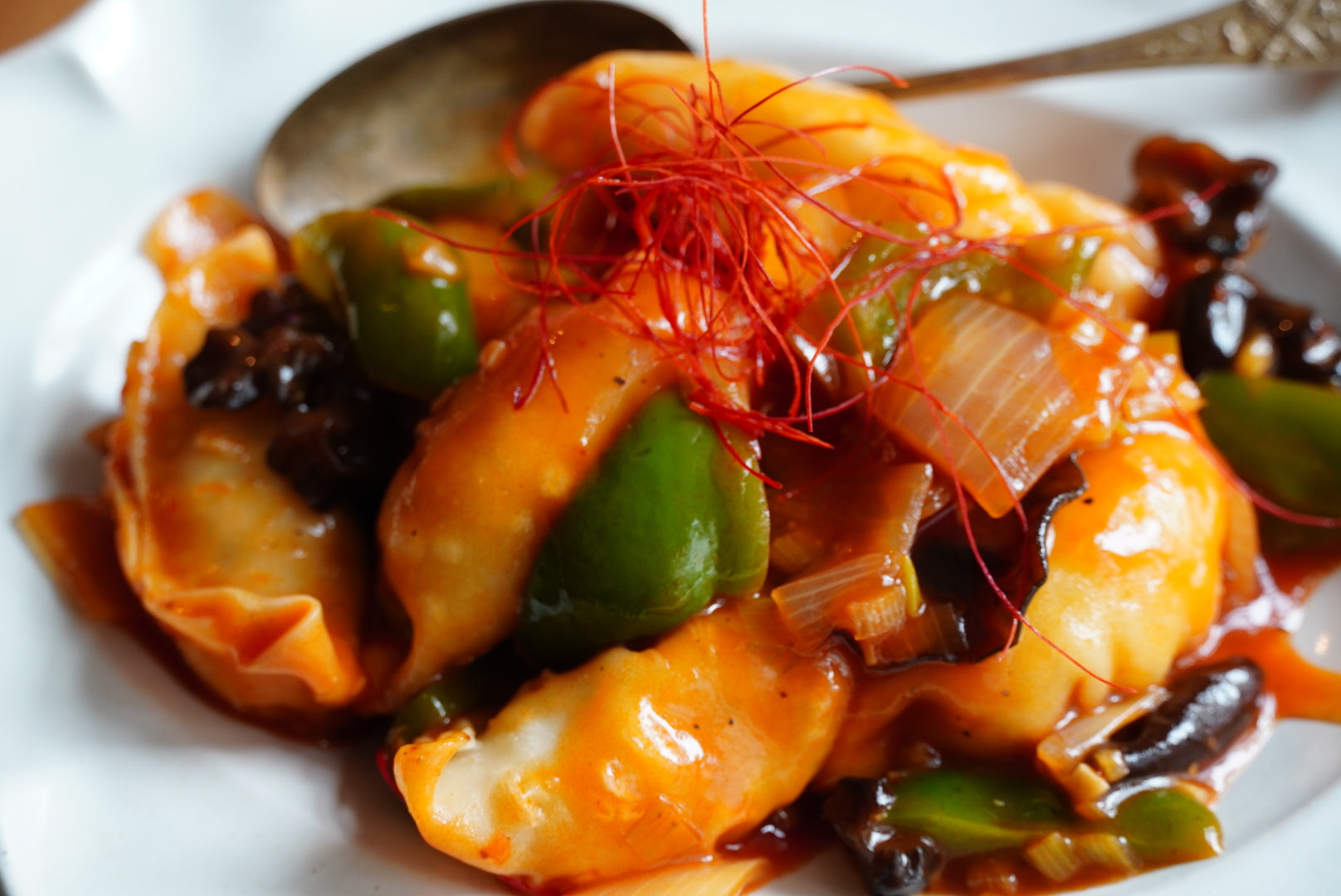 It's August and summer is in full swing!

Today, I would like to introduce the recipe for TOK YO VEGAN "Chili Ankake" GYOZA, which is perfect for the hot summer when you tend to lose your appetite. The spicy and thick chili ankake goes well with the meal.


《TOKYO VEGAN "Chili Sauce" GYOZA》 Serves 3-4 people
・
15 Tokyo vegan dumplings
・Rice oil (flavorless vegetable oil) Appropriate amount
・1 tablespoon of sesame oil
・Same amount of ginger as garlic
・1/2 teaspoon bean sauce

・Ketchup 60g
(Potato starch dissolved in water)
・Potato starch 1 teaspoon
・1 teaspoon of water

1. Fry the vegan gyoza in rice oil. It's ok to fry with a lot of oil. If you put gyoza in it and fry it at a low temperature where bubbles form a little, it is difficult for the inside to remain frozen. Remove from the oil when the surface of the skin is crispy and slightly browned.
2. Pour boiling water over the mushrooms and set aside. Chop the onion into large cubes, roughly chop the green pepper, and finely chop (or grate) the green onion, garlic, and ginger. Separate the seasonings and mix well.
3. Heat sesame oil in a frying pan and stir-fry the green onion, garlic and ginger over low heat until fragrant. When it smells good, add bean sauce and let it smell even more.
4. Set to medium heat, add onions, green peppers, and cloud ear mushrooms and fry. When the edges of the onion become white and translucent, add the combined seasoning all at once and bring to a boil. When the vegetables are cooked, thicken them with water-soluble potato starch. Season with black pepper to taste.
5. Arrange the fried vegan dumplings on a plate and pour the sauce over them, or put the dumplings in a frying pan and mix them together.
**iina's comment**
Try arranging ingredients such as mushrooms, Chinese cabbage, and carrots.
It is also recommended to add vinegar on the way and eat it refreshingly.
Enjoy vegan dumplings that go well with rice, and are made by adding chili shrimp and sweet and sour pork.
****************
[What you taught me]
vegan food creator
iina (nice)
vegetarian cook.
In 2008, he moved to Brownsfield in Isumi City, Chiba Prefecture.
Became the chef of
"Rice Terrace Cafe" while experiencing organic farming and making preserved food
. Moved to Tokyo in 2010 and
started working as a vegetarian chef.
From 2010 to 2012,
he opened a veggie cafe "vegegeek" once a week. Currently presides over the cooking class "vivid cookeryvegetarians".
Fresh, colorful,
delicious and creative vegan food that everyone can enjoy every day
.
iina (@iina_veganfoodcreator) • Instagram photos and videos
When it gets hot, it's good to feel refreshed, but if it's just that, your body will run out of energy and won't be able to generate heat, which can lead to dullness and fatigue. chili sauce
Moderate stimulation is also effective for increasing appetite and preventing summer fatigue.
Please try it!