レシピ
《TOKYO VEGAN "Ajillo" GYOZA》
2022/06/23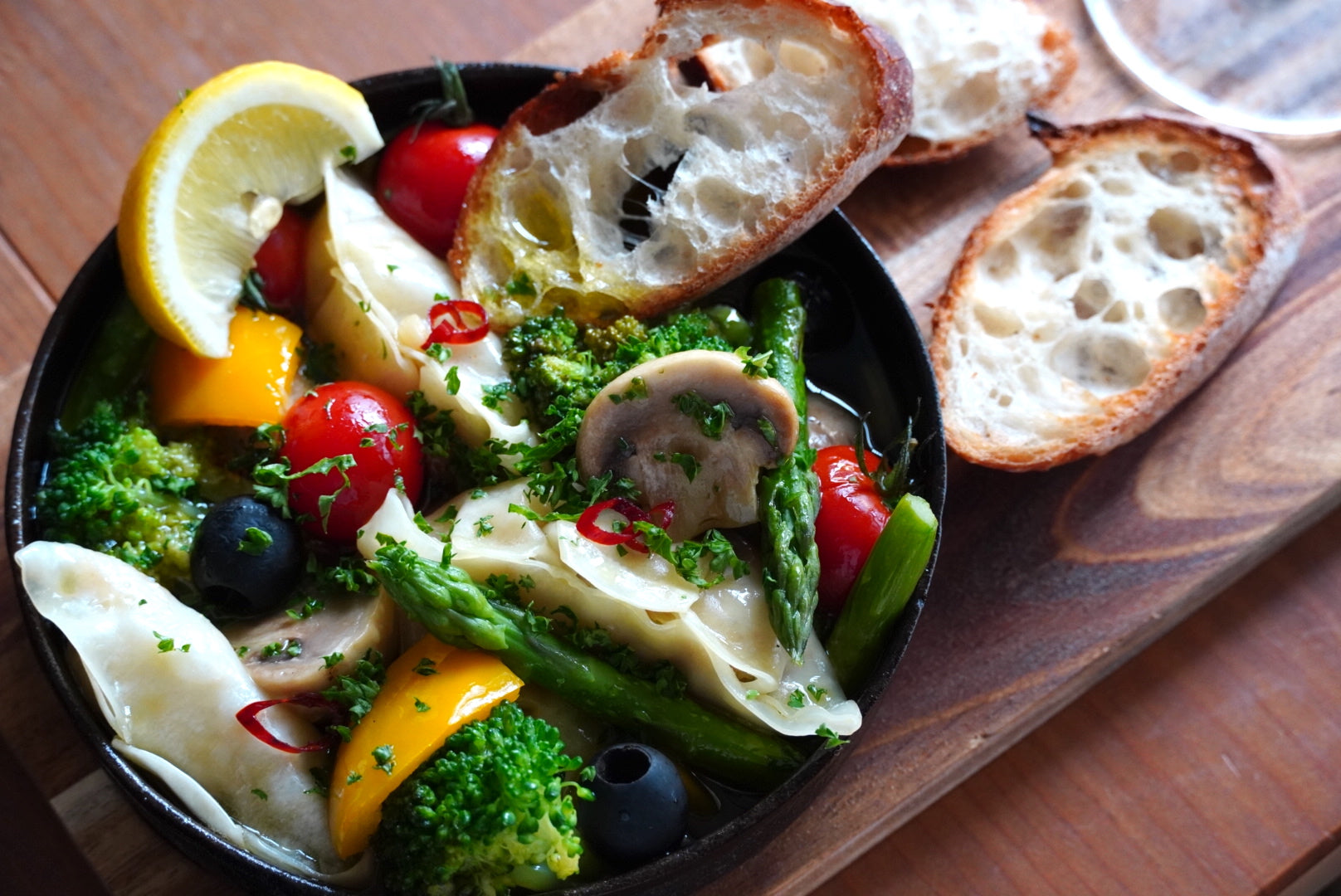 It's been a humid day in the middle of the rainy season.

Today, I would like to introduce a recipe for TOKYO VEGAN "Ajillo" GYOZA that will blow away the heat and humidity. You can kill two birds with one stone by using the remaining oil to enjoy another dish.


《TOKYO VEGAN "Ajillo" GYOZA》 Serves
2 (15cm diameter skillet)
【material】
・Tokyo vegan dumplings 4 pieces
・Appropriate amount of parsley
・2 tablespoons of white wine
・Round red pepper Appropriate amount
[How to make]
1. Cut the asparagus and broccoli into moderately sized pieces and boil them in slightly salted water. Halve the mushrooms, roughly chop the yellow paprika, and finely chop the parsley.
2. Beat the garlic with a kitchen knife, crush it and mince it, white wine, olive oil and salt in a skillet and put it on low heat. When bubbles come out of the garlic and it smells good, add the sliced chili peppers.
3. Add frozen vegan dumplings, mushrooms, yellow paprika, broccoli, and asparagus to the skillet and simmer slowly with olive oil. When the mushrooms look like they have absorbed oil, add cherry tomatoes and black olives and simmer until desired.
4. Scatter parsley to finish and squeeze lemon. Serve with toasted baguette.


The best match of gyoza and olive oil with the umami of garlic. Even if the dumplings fall apart, you can still enjoy the delicious oil that comes out of the ingredients. If you don't have a skillet, you can also use a small frying pan or takoyaki maker. Instead of baguette, add boiled pasta to the end and lightly heat it again to transform it into gyoza peperoncino. Enjoy with white wine.
****************


[What you taught me]
vegan food creator
iina (nice)

vegetarian cook. In 2008, he moved to Brownsfield in Isumi City, Chiba Prefecture. Became the chef of "Rice Terrace Cafe" while experiencing organic farming and making preserved food. Moved to Tokyo in 2010 and started working as a vegetarian chef. From 2010 to 2012, he opened a veggie cafe "vegegeek" once a week. Currently presides over the cooking class "vivid cookeryvegetarians". Fresh, colorful, delicious and creative vegan food that everyone can enjoy every day.
iina (@iina_veganfoodcreator) • Instagram photos and videos

A summer recipe that you want to enjoy with chilled white wine or cold tea. Garlic oil not only lowers blood pressure, but it also improves blood flow to the brain. Please try it!