レシピ
《Lettuce Steamed Dumplings ~3 Kinds of Sauce~》
2022/06/15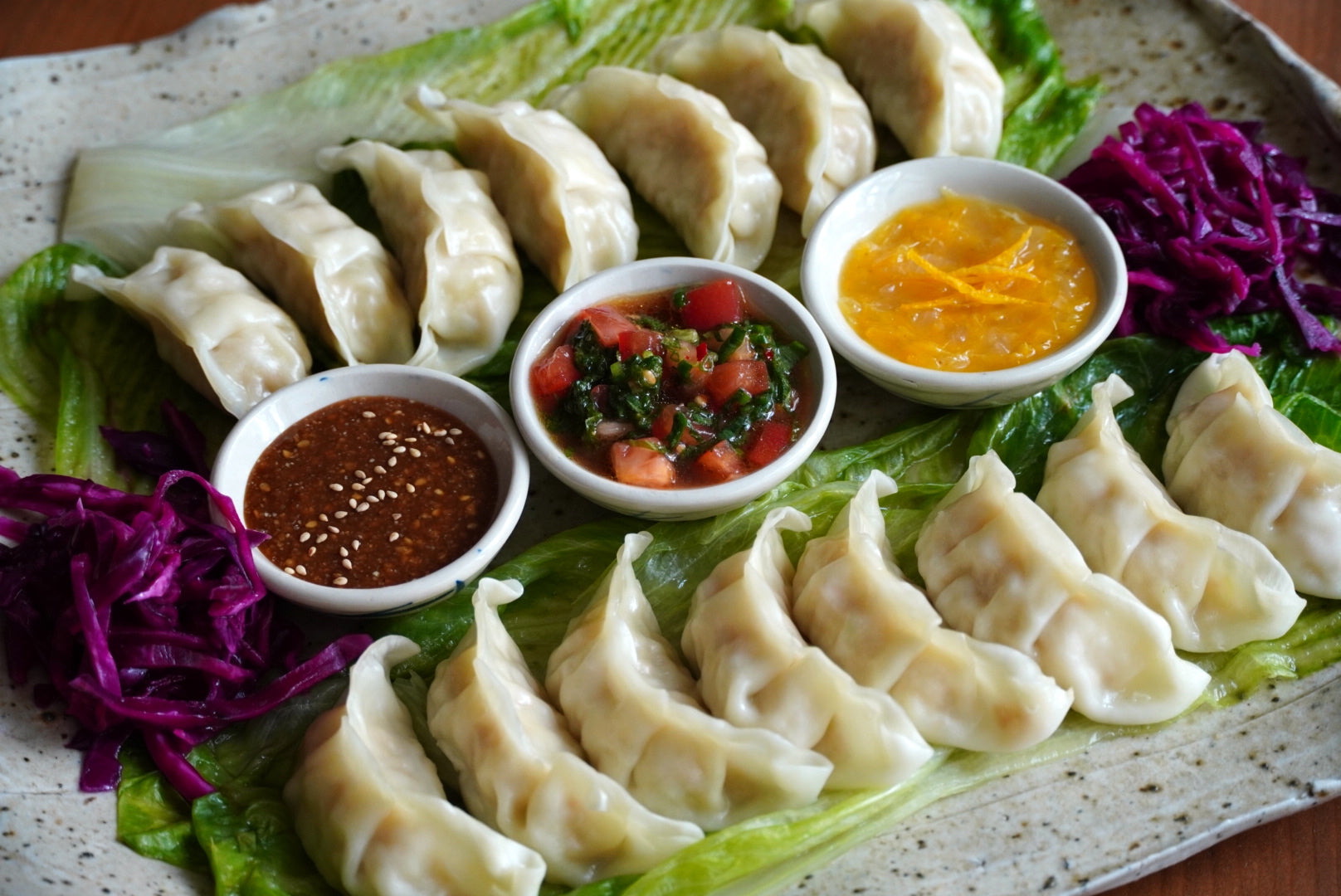 Following the Kanto region, the rainy season has started one after another all over the country, but it's cool and chilly today.
Today, we will introduce the recipe for steamed lettuce dumplings with 3 kinds of sauce. It's even healthier than pan-fried dumplings, so it's great for days when you want a light and refreshing meal, or for this weekend's "Father's Day" menu.


《Lettuce Steamed Dumplings ~3 Kinds of Sauce~》


[Steamed gyoza]
・15 Tokyo vegan gyoza dumplings (as much as you like)
・5 to 10 pieces of lettuce (as much as you like)

1. Pour water into a frying pan up to 5 mm from the bottom. Cover with lettuce leaves. Arrange frozen vegan dumplings on lettuce.
2. Heat over medium heat, and when the water boils around the edge of the frying pan, cover and steam for 6 minutes.


[Sesame miso sauce]
・Grilled sesame seeds 1 tablespoon
・1 teaspoon of water

Place all ingredients in a small bowl and mix well.
[Japanese style salsa sauce]
・1 tablespoon light soy sauce
・A little Tabasco

1. Cut the tomato into small cubes, shred the shiso leaves, and cut the onion into small pieces.
2. Place all ingredients in a small bowl and mix well.
A ・1 tablespoon of white wine

・1 tablespoon lemon juice

・2 tsp light soy sauce

・1/2 tsp salt

・1 teaspoon agave syrup
・Potato starch dissolved in water 1/2 teaspoon of potato starch + 1 teaspoon of water
1. Remove the outer skin from the orange, remove the thin inner skin as much as possible, loosen the fruit, and put it in a bowl. If it is difficult, squeeze it with a squeezer and add a little of the pulp with a spoon.

2. Finely chop the onion and garlic, add olive oil to a small pan, and fry over low heat until translucent.
Add 3.1 orange and seasoning A. Simmer over low heat for about 5 minutes while crushing the pulp with a wooden spatula.
4. Thicken with potato starch dissolved in water and add pepper to taste.


We made 3 different sauces that go well with steamed dumplings. Wrap the dumplings in steamed lettuce and dip them in the sauce. It is also recommended to try it with bean sprouts instead of lettuce.
****************
[What you taught me]
vegan food creator
iina (nice)

vegetarian cook. In 2008, he moved to Brownsfield in Isumi City, Chiba Prefecture. Became the chef of "Rice Terrace Cafe" while experiencing organic farming and making preserved food. Moved to Tokyo in 2010 and started working as a vegetarian chef. From 2010 to 2012, he opened a veggie cafe "vegegeek" once a week. Currently presides over the cooking class "vivid cookeryvegetarians". Fresh, colorful, delicious and creative vegan food that everyone can enjoy every day.
iina (@iina_veganfoodcreator) • Instagram photos and videos



Even with the same gyoza, you can enjoy various tastes by changing the sauce, so you can eat it. Please try it!
*For those who place orders for Father's Day, orders placed by 23:59 on Wednesday, June 15th will be shipped on Friday, June 17th.