レシピ
《Gyoza dumplings with white miso soup of spring vegetables》
2022/05/05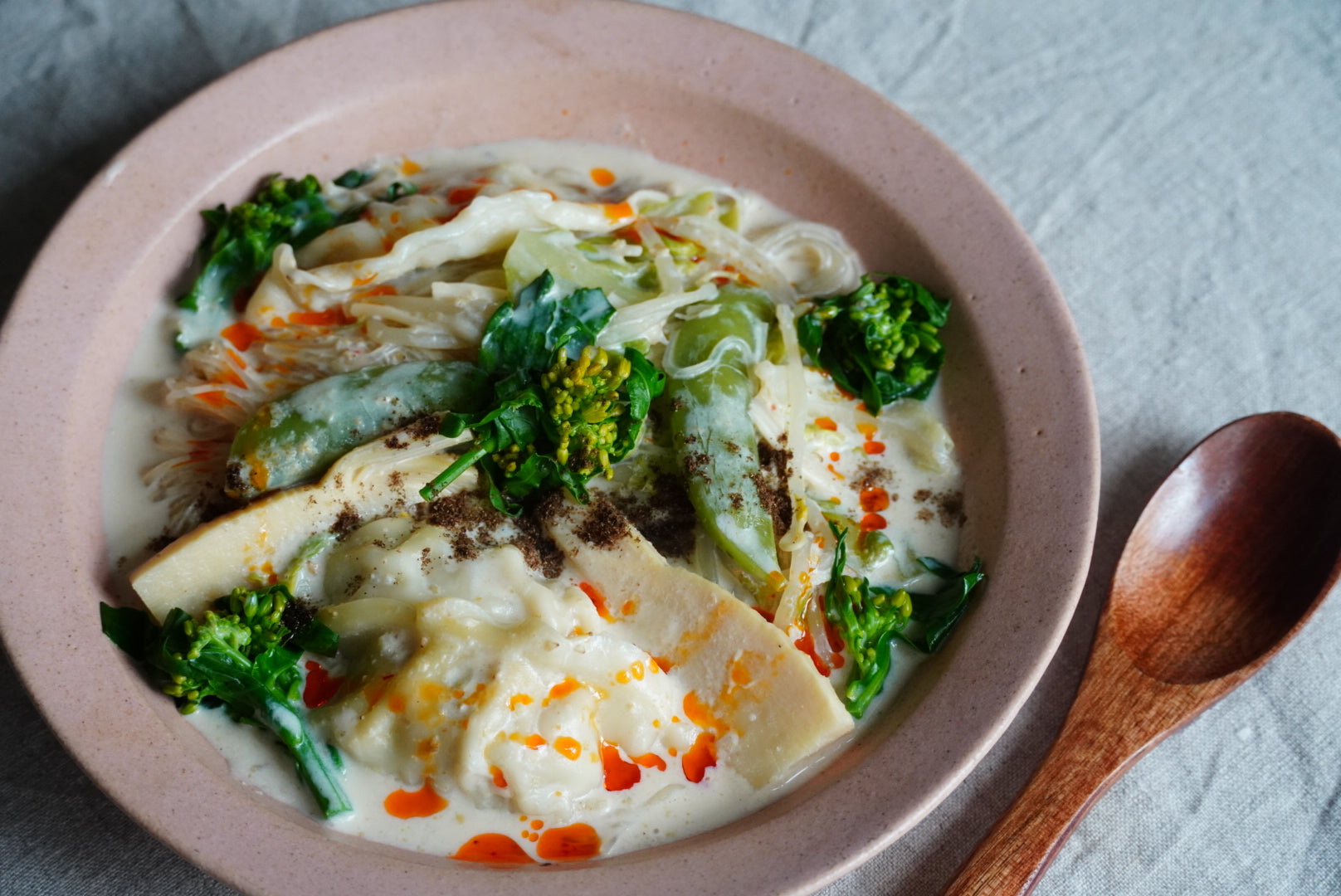 It's the second half of Golden Week, but how are you all doing?

Today, I would like to introduce a spring vegetable white miso tantan soup made with Tokyo vegan dumplings. It is a dish that you can enjoy the deliciousness of spring in one plate.


[Ingredients] *For 4 people
・12 Tokyo vegan dumplings
・Boiled bamboo shoots 120g
・Vermicelli (dried) 35g


・1/2 teaspoon grated garlic
・1/2 teaspoon grated ginger
・1 and 1/2 tablespoons sesame paste
・Unadjusted soy milk 300cc
・Grilled sesame seeds 2 tablespoons
・Chili oil Appropriate amount
・ Sichuan pepper appropriate amount


1. Cut the vegetables into small pieces. Boil the vermicelli quickly and cut into desired sizes.


2. Put enoki mushrooms → bamboo shoots → cabbage → bean sprouts → snap peas → rape blossoms → vegan gyoza (still frozen) in order of layering in the pot.

3. Pour the well-mixed A ingredients into a pot and cover the pot with a lid. Turn the heat to medium and set the timer for 10 minutes. On the way, if it boils violently, lower the heat a little.

4. After boiling for 10 minutes, add soy milk, sesame seeds and vermicelli. When it comes to a boil, turn off the fire.
5. Place in a bowl and sprinkle Sichuan pepper and chili oil as you like


[What you taught me]
vegan food creator
iina (nice)

vegetarian cook. In 2008, he moved to Brownsfield in Isumi City, Chiba Prefecture. Became the chef of "Rice Terrace Cafe" while experiencing organic farming and making preserved food. Moved to Tokyo in 2010 and started working as a vegetarian chef. From 2010 to 2012, he opened a veggie cafe "vegegeek" once a week. Currently presides over the cooking class "vivid cookeryvegetarians". Fresh, colorful, delicious and creative vegan food that everyone can enjoy every day.
iina (@iina_veganfoodcreator) • Instagram photos and videos


If you stir the pot with a ladle while the gyoza is boiling, the gyoza will fall apart. (It is OK to break when eating)
Do not boil after adding soy milk. The components of soy milk harden and separate.
Root vegetables are also suitable, so try replacing them with lotus roots, burdock roots, carrots and potatoes in winter.
****************

Tokyo vegan gyoza contains miso paste, so it goes well with white miso. Although it is mild, chili oil and Sichuan pepper are good accents. Please try it!